These creepy funny zombies are a great way to add some spooky Halloween decorations to your yard! Put it in the garden to scare your neighbors during Halloween!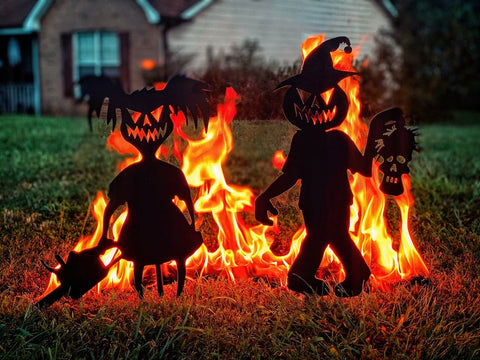 We powder coat, rather than paint, our items to last.
Made from sturdy 16 gauge steel and black powder coated to resist rusting and weathering for many years!
Handmade
Materials: metal
Original Size:
Girl holding a doll measures approximately 7.25" wide by 12" tall
The zombie boy and dog measures approximately 10" wide by 12" tall
The pumpkin man with the skull is about 7.78" wide by 12" tall
Zombie girl holding chainsaw approximately 10" wide by 12" tall
After receiving feedback from everyone, we increased the size:
Girl holding a doll measures approximately 9.19" wide by 15.75" tall
The zombie boy and dog measures approximately 10.46" wide by 15.75" tall
The pumpkin man with the skull is about 8.67" wide by 15.75" tall
Zombie girl holding chainsaw approximately 13.33" wide by 15.75" tall